Employee Spotlight: Natalie Milde
We value the strong community we have around and within the company – and we are especially proud of the people that make Future Energy Ventures such an inspiring and impactful place to work. Hence, we have decided to give them the spotlight and opportunity to talk about their experiences at Future Energy Ventures.
For this Employee Spotlight, we sat down with Natalie Milde, Investment Analyst at Future Energy Ventures. Natalie has worked and volunteered extensively with NGOs, start-ups and government entities in Europe, the Middle East and North Africa, with a special focus on environmental and social sustainability. As part of FEV's investment team, she works to find the best and the boldest entrepreneurs with a mission to decarbonize.
This Spotlight explores the decarbonization opportunity presented by cooling systems, the topic of impact measurement and what enticed Natalie to the world of venture capital and more specifically, FEV.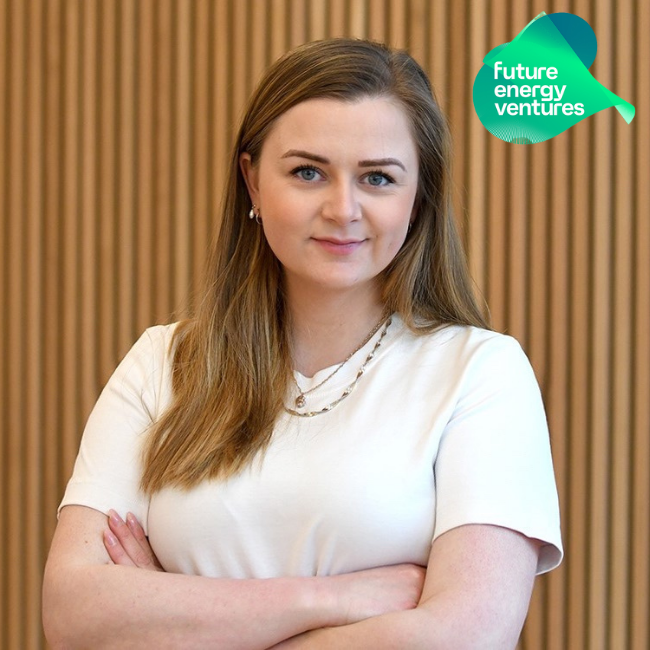 Which technologies or themes related to the energy transition do you find particularly interesting? And what do you consider to be the biggest trend/opportunity?
 
As a Norwegian working in Germany, how to inexpensively and in a climate friendly manner heat our homes is a familiar topic. Having lived and worked for some time in the Middle East however, including during the warmest summer months, I'm particularly interested in one area – one that became glaringly obvious very quickly, but that is being grossly overlooked – The way we cool our homes, our food, our vehicles.
Cooling systems do not get nearly enough attention despite their highly devastating effect on the climate. They are damaging for two key reasons. Firstly, cooling is energy intensive and most of the hardware in use and available to meet future demand is highly inefficient. With rising demand, and not to mention global warming, our energy systems are inadequate. Secondly, current cooling technologies relies on highly problematic refrigerant chemicals which are thousands of times worse for the climate than CO2. The worst of the refrigerants, the ones that were harming the ozone layer up until the 1990s, have thankfully been phased out, but the replacement chemicals such as hydrofluorocarbons (HFCs) are simply a different kind of evil. Project Drawdown estimated that containing refrigerants and phasing out HFCs has the combined potential to avoid somewhere between 80-190 Gt of CO2 equivalents by 2050 – an impressive range that should draw considerably more attention than it does today.
Bottom line: any promising innovation happening in this space is highly interesting in my view. It might not be an investment case for FEV yet as much of the innovation we are seeing in the space is very hardware heavy and at a lower tech maturity level than where we would ideally invest, but an area to watch for sure.
What are you focusing on at the moment?
Exciting things! At the moment, I am deep diving into the FEV approach for impact measurement of future investments – outlining how we ensure that our investments are addressing both the urgency and magnitude of the emissions reductions needed to reach net zero – all the while delivering superior financial returns. Global emissions need to be nearly halved within eight years if we are to be on track to net zero by 2050. That is a major challenge, but the fun part about my job is to look for, engage with and eventually invest in pioneering and impactful founders who will be part of the solution.
What does the path to net zero look like to you?
One thing that has become apparent is that to decarbonize our economies and reverse global warming, there is not one single solution. We need numerous technologies, in addition to behavioural changes and policies, all piled on top of each other, to get the emissions curve to slope downward.
At FEV we look for solutions focused on energy and cities for good reason: Cities represent just 1% of Earth's inhabitable land but is today home to more than half of the world's population – going up to two-thirds by 2050. Cities consume the vast majority of the world's resources and energy and produce most of the world's waste. Energy is still a key source of emissions despite the welcome rise in renewables. So, fast-tracking our tech deployment in cities and focusing innovation and investments on the energy industry is a greatly efficient path to massive impact which will have a ripple effect across the planet and help us make strides towards net zero.
What drew you to VC?
Before going into VC, I worked with the amazingly passionate and knowledgeable team at Sahara Forest Project. They are creating a business around growing vegetables and green areas in the middle of the Jordanian desert using saltwater, sunshine, and smart tech. Being part of their journey and later cheering them on as they grew – but also understanding the challenges they had to overcome – made me acutely aware of the impact the right investors can have in supporting early-stage companies. This was key to me, to drawing me to VC. The prospect of working with innovative and impactful companies transforming the energy landscape and decarbonizing our societies was pretty irresistible.
Granted, as an investor, and even as a VC, you could just cut a check, sit back, and enjoy the ride. After all, the founders and their teams are doing the actual work. But where's the fun in that? FEV has a history of facilitating partnerships and co-development between start-ups and different parts of the E.ON group, being an active and value-adding investor. This makes all the difference, in my view.
What life experiences have shaped your professional approach?
For 10 years I have been volunteering and working with Human Rights organisations, focusing on topics like women's rights across the Middle East, religious minorities in Iraq and freedom of speech and assembly in Western Sahara. So, my outlook on life and my perspective is very much coloured by people and human rights defenders I have worked with. Climate change is a grave threat to human rights and in many places, it is already forcing millions of people to flee their homes. It is ingrained in power dynamics and conflicts worldwide, and so for me, making the energy transition and climate change mitigation a key focus of my professional career felt like the most impactful thing I could do. By finding, funding and supporting the best and boldest entrepreneurs working to decarbonize our economies, VC firms such as ourselves are in an exceptional position to bring about lasting change in the world.
What's the best piece of advice you've ever received?
It's not really advice that I received, but a quote I keep coming back to:
"An artist must approach his work in the spirit of the criminal about to commit a crime"
– Edgar Degas
I think the same is true for anyone who cares about their work.
What's your favourite film/band/album/book/TV show?
I quite enjoy reading, so a favourite book is tricky. However, Gert Nygårdshaug's Mengele Zoo was the read that introduced me to the topic of climate change as a teenager and it shaped my thinking about the world profoundly. An honourable mention is also Mohammed Hanif's A Case of Exploding Mangoes. Not energy related, but lots of understated humour, an enduring mystery and a little provocation. A great read!