Employee Spotlight: Vemund Borge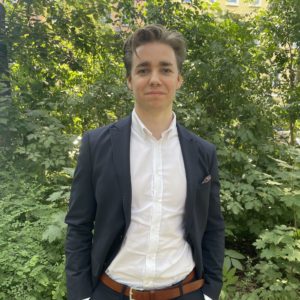 We take pride in all of our team members, from those who have been with us since the beginning of Future Energy Ventures up to our most recent team members.
For our latest Employee Spotlight, we speak with the newest member of our team, Vemund Borge: Intern Reporting and Analytics in our office in Berlin. In his spotlight, Vemund shares his thoughts around how he can contribute to sustainability through his work at Future Energy Ventures.
What is your role on the Future Energy Ventures team?
I work as an intern within Reporting and Analytics. I am able to use my Business and Accounting background from my studies and previous work experience within auditing and ESG reporting to improve tracking and relevant KPIs of our portfolio companies. The goal is to integrate the most important data from FEV's portfolio companies into one seamless system. I am also excited about helping FEV to evaluate and look for new potential investments.
How do you think we can contribute to sustainability efforts, both as individuals and organizations?
We can all contribute to a more sustainable future by doing small things in our daily life. Some options include choosing a more sustainable option for transport, recycling, and being conscious about our energy consumption. These things are all very important, but to reach our globally agreed upon SDG by 2030, we need technological improvements and new innovations especially within energy-related sectors.
I hope I can personally contribute to a better and more sustainable future at Future Energy Ventures by supporting the deal-flow process in funding new ventures that are accelerating our progress towards these goals on a large scale. I also believe that creating quality primary education for all at a systemic level will be one of the most important steps towards a more sustainable future.
What drew you to Future Energy Ventures?
I was initially drawn to Future Energy Ventures' focus on pioneering the new energy future through scouting and investing in the ventures that make transition possible at scale. Their model matches perfectly with my interests and excitement for investing, innovation, and energy. FEV is also a global company, and as a Norwegian I find it exciting to work and live in Berlin.
What are your main hobbies?
My hobbies include investing, cross-country skiing, running, football and just being around friends and family. I enjoy both football and investing because both activities are highly competitive and times flies by when pursuing them.