The Future of ESG & Climate Impact
Conversations from Future Energy Ventures' latest Investor Event
At our recent exclusive Investor Event, held on 14th September, we invited a select group of investors to Düsseldorf for conversations around the future of decarbonized energy systems, ESG, and investments with climate impact.
The response from our panel of future energy leaders was unanimous: creating transparency and better, clearer frameworks around ESG metrics are the key to staying ahead of the energy transition curve.
Climate transition presents a tremendous and timely opportunity. For companies both large and small, investing the initial time and financial resources into progressing their carbon-neutral roadmaps will not only accelerate our global net-zero goals, but will also help climate-minded businesses secure their future long-term investments in the process.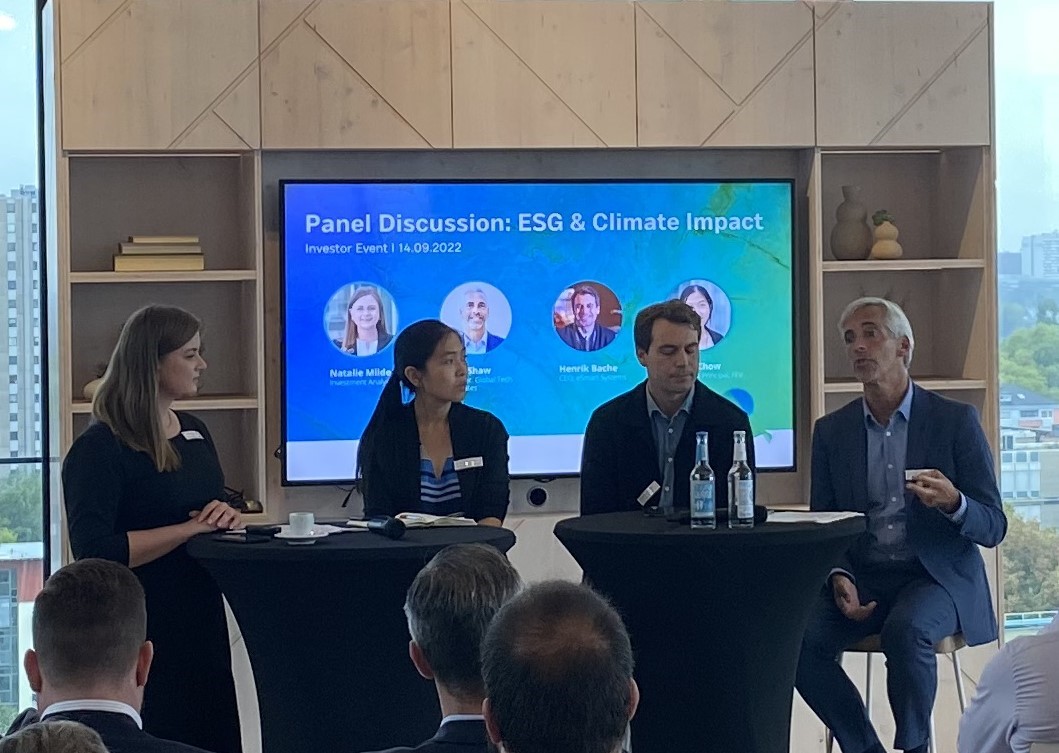 During the event, Natalie Milde, Investment Analyst at Future Energy Ventures (FEV), hosted the panel discussion, "ESG & Climate Impact," featuring FEV's Investment Principal Yi Jean Chow; eSmart Systems CEO Henrik Bache; and Tech London Advocates & Global Tech Advocates Founder Russ Shaw. Natalie began by asking panelists: what are the biggest challenges currently facing the energy space?
Where to begin
One of the biggest challenges around ESG is that many companies are unsure where to begin, especially as it relates to reporting. There are an estimated 600 different ESG reporting frameworks around the world, which can lead to a lot of confusion and even skepticism. Still, despite the current challenges, companies realize its importance. As Henrik Bache explained, "The emphasis on ESG can be seen from the fact that many new projects are encompassing ESG reporting as nearly 30% value in their requests for proposals."
The challenge, then, is how to make sense of reporting requirements amidst disparate reporting standards and too many frameworks. At FEV, for example, our new independent fund is an SFDR Article 9 fund, with a decarbonization objective. As such we rigorously track the greenhouse gas emissions reduction impact of the fund's portfolio companies. We also look to avoid any negative sustainability impact in our portfolio. We track Principal Adverse Impacts (PAIs) on sustainability factors as outlined by SFDR, as well as selected metrics from the ESG Data Convergence Project. The Data Convergence Project is rapidly gaining momentum in private markets as a mechanism to standardize and enable comparative reporting on ESG metrics. We fully support the initiative and increasing standardization and believe tracking such metrics can be a resource for our portfolio companies as they raise later-stage funding.
Transparency to counter Greenwashing
Money is flowing into ESG and "green" companies are making a lot of noise and gaining significant attention. However, in many cases, companies have used the funds to highlight themselves and their efforts for marketing purposes, as opposed to making real efforts and progress on ESG.
There are two main driving forces: 1) Undefined parameters around what constitutes "green", such as unclear or interchangeable definitions around ESG, impact, sustainability, and green investments, and 2) A lack of clarity around how to appropriately evaluate business models within these frameworks.
For FEV, a key distinction lies between ESG and Impact. For us, ESG refers to the internal processes and practices of a company and is an important element in evaluating risk. It includes topics like gender equality in the work place, waste management and labour policies. Impact is the outcome generated by the company's product or service. So, what they contribute externally – whether it's energy efficiency gains for their customers, or the effect of smart charging software installed, etc. Put simply, impact is the "what", ESG is the "how".
At FEV, we evaluate every investment on their ESG performance, as well as the impact they can achieve. We believe sustainable companies are more likely to scale rapidly and stand the test of time.
Addressing investor expectations
Another focus of the panel was around addressing investor expectations. ESG or impact conscious investors are often reluctant to invest in start-ups unless they can demonstrate their commitment to relevant metrics. There are many ways a young company could do this such as demonstrating progress now compared to 12 months ago – even if the progress is modest, or by using comparable technologies scaled by other companies to estimate potential impact over time. However, companies should also not underestimate the power of articulating their goals and intentions for impact on their chosen sustainability metrics – whether environmental or social – and illustrating the interlink between their impact and their financial success. For those just starting out, they should put in place benchmarks early-on to measure against to start building out a track record.
Beyond that, another core focus for investors is the profile of the team itself, specifically diversity within the team's composition. Founders and leaders from underrepresented groups represent an untapped pool of talent and opportunity.
More and more spaces to foster relationships between underrepresented founders and investors are opening up, and hopefully we will see VC funding flowing to a more diverse set of founding teams going forward. FEV is excited to take part in both the Climate Mosaic Initiative and Female Founders Office Hours, and we encourage more VCs to be pro-active in broadening their scope.
The road ahead
As investors, communication with LPs and GPs will become increasingly important, particularly around the metrics they are interested in reviewing and benchmarking against. The good news, based on current trends, is that funding continues to flow into the sector. In 2021, 30% of European venture funding went into climate tech start-ups, second only to fintech.
On the start-up side, entrepreneurs need to look at sustainability as a competitive advantage and should create transparency among their employees and customers alike to develop ESG as a strength. As ESG becomes an increasingly common item on investors' agendas, maintaining a climate-minded focus will be key to attracting – and retaining – the right investor support long-term.
We at Future Energy Ventures are excited and inspired by the ever-growing momentum around accelerating the energy transition. By strengthening our partnerships and collaborations with forward-thinking start-ups, investors and corporates, we are excited to continue building on the growth of the technologies and business models reshaping our energy future.