Becoming DEI-driven: 3 steps for creating organizational impact
By Fanny Rohr, People Innovation Business Partner
Diversity, Equity, and Inclusion (DEI) is fundamental to creating a vibrant, safe, and respectful work environment. Lately, however, related "buzzwords" have become increasingly common, with companies proudly claiming to be "diverse," "tolerant," and "equal." But this is only a positive development if talk translates into action.
For some, DEI means ensuring gender diversity and accessibility within the company; for others, it extends to diversity in terms of ethnic background, age, abilities, opinions, and approaches. Employees, especially the so-called "Gen-Z" (born after 1995), place a significant emphasis on fairness and equality in the workplace. According to various surveys, 83% of jobseekers say an employer's commitment to diversity factors into their decision about whether to accept a job" [1].
There are compelling reasons to take this matter seriously. Diverse companies have been shown to achieve more profitable business results and secure long-term success through satisfied and productive employees. According to research by McKinsey, "companies with the most diversity are more likely than ever to outperform their less diverse competitors in terms of profitability."[2] Additionally, there are other benefits: employees' intercultural competencies are strengthened, positively impacting customer service. Diverse perspectives foster innovative thinking, stimulating research and development and enriching decision-making processes. Furthermore, DEI enhances the company's image, attracting top talent. A diverse corporate culture creates an interesting, inspiring work environment for employees, leading to increased job satisfaction when the team feels understood and valued. According to new research, a significant 98% of HR leaders agree that DEI is important to overall business strategy [3].
DEI is not merely a feel-good factor or a passing trend: it is a critical success factor for companies that want to attract top talent and thrive in the future. This calls for leaders who can present concrete concepts and strategies.
Especially for tech startups, DEI can present a challenge. According to a study from Lawless Research, 72% of founders believe building diversity within their company is extremely or very important but only 12% have more than five diverse tech employees[4]. Even though the importance of a diverse, inclusive work environment is often recognized in young, innovative companies, there is a lack of necessary resources to implement and sustain DEI initiatives. In this article, I would like to explain how it can still be accomplished, if we break down the action plan into three key steps: Recruit, Retain, and Measure.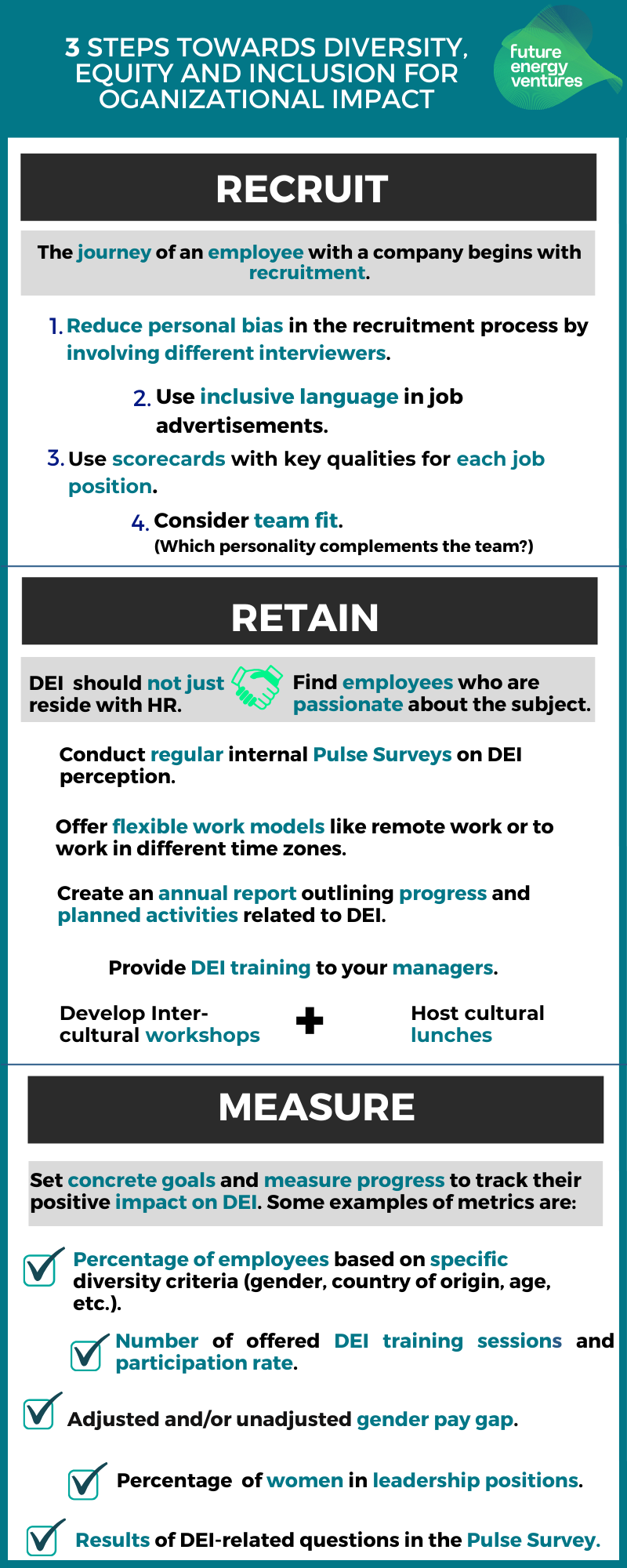 1. Recruit
The journey of an employee with a company begins with recruitment. We must be aware that we tend to evaluate people who are similar to us more positively. If left unchecked, this bias can lead to a homogenous team in the long run, with similar opinions, strengths, and worldviews – which would not only be dull, but also fail to meet the demand for diversity.
I often support our portfolio companies in their hiring processes, and most of them wish for greater diversity among applicants. Especially for tech positions, predominantly male candidates apply. However, gender is not the only diversity factor, and when startups open themselves to hiring more internationally or giving a chance to a younger/older applicant, they can discover unforeseen talents. Our investment team at FEV consists of people from 6 different countries with an age range from early 20s to 50+.
Even in the formulation of job advertisements, inclusive language can be used. An explicit indication that candidates who do not meet all the criteria are encouraged to apply is now common. This is particularly important in encouraging female applicants who often refrain from applying if they do not possess all the required skills and experiences. Research confirms this gender gap in confidence levels, and highlights the importance of being overconfident in one's abilities – to an extent, of course[5].
In the selection process, involving more than just the recruiter can help reduce bias and lead to a more comprehensive and enriching assessment. FEVs recruitment process consists of 3-4 stages where applicants meet different people from HR and the investment team and do a case study for better comparability. A dedicated culture interview is also part of the process to learn more about the person, their values, and drivers. It is essential to note that the goal is not to hire as many women or people of color as possible to meet quotas. Rather the approach should be to find the best-suited person for a position, regardless of gender, race, sexual orientation, age, etc. from the widest possible pool of talent. One method that can help form an objective opinion about a candidate is the use of scorecards. The most relevant qualities (skills, experience, network, etc.) for the position are recorded and evaluated for each candidate, enabling a comparison based on objective criteria.
Additionally, considering team fit is relevant. To maintain diversity here as well, we should ask ourselves: Which personality would complement the team well? What new perspectives and strengths does the candidate bring? And with significantly different characters, can our team handle the tension? What is the balance between conflict potential and enrichment?
2. Retain
Once you have attracted the desired employees to your company, the focus shifts to retaining them. Young employees in particular place great importance on diversity and equality, as numerous studies show.
The culture of a company is crucial in this regard. It is easy to claim DEI and showcase shiny statements on the website. But is Diversity, Equity, and Inclusion truly practiced within the company? One initial step can be the creation of an internal DEI policy that illustrates the importance of the subject and sets priorities.
There are numerous measures that contribute to anchoring DEI within the company. One thing is to ensure DEI doesn't just reside with HR. Such measures are most effective when supported by additional internal ambassadors. Find employees who are equally passionate about the subject – ideally from different departments and at various hierarchical levels. They will stand up for the cause, promote it, and recruit further ambassadors.
3. Measure
Even with the best DEI strategy and supporting activities, it's essential to set concrete goals and measure progress to track positive impact within the company. Find a goal that fits your company, is ambitious, and can be clearly measured for achievement.
There are plenty of good examples, such as Intel, which aims to have "40% of all technical roles filled with women by 2030[6]." Or Verizon's goal of "100% pay equity in salary for women and men across Verizon and with respect to race/ethnicity in the U.S. by 2025[7]."
When seeking inspiration for appropriate goals and metrics for your company, you will find several good examples in the market. The company Mirova SunFunder, a finance business based in Nairobi that focuses on clean energy and climate investments in emerging markets, tracks the number of female employees in the company (55%) and the different nationalities (16)[8].  Our portfolio companies are also increasingly capturing DEI-related metrics. Here are some examples:
ev.energy, a startup within the EV smart charging sector, is assessing various aspects, including the implementation of specific DEI practices within the company. During recruiting, they actively source candidates from diverse backgrounds, and bring them forward in the process. Additionally, they have put systems in place to start tracking the percentage of their workforce that identifies as belonging to a racial or ethnic minority group, as well as the presence of employees who are either younger than 24 or older than 50 years of age. ev.energy is also a high scoring B-Corporation, and as part of this process it regularly ensures that its DEI practices are assessed externally, so that opportunities for improvement are identified.
tado°, the European leader in intelligent home climate management and provider of energy management solutions for residential buildings, collects data on employee nationalities, gender diversity on different career levels, and equal pay. When working with headhunters, the company makes sure that diversity in recruiting is standard practice for the search firm.
Thermondo, the German market leader in heat pump installations, is tracking female employees in leadership positions and is focusing on diversity in the recruitment process. They have also recently started monitoring the gender pay gap and tracking the countries represented by their employees. Additionally, the company has an LGBTQIA+ Employee Resource Group.
Data collection will help you understand where your company currently stands regarding DEI, while opening up areas for improvement. Some factors will adapt more quickly, while others will take time to yield results. The metrics provide guidance and show if you are on the right track.
A clear path towards DEI brings positive outcomes
DEI is a vast field with many possibilities. On one hand, this is great as it allows for a variety of specific activities. On the other, it can be easy to lose sight of the bigger picture, and bringing all the pieces together can be a challenge. A clear plan that defines goals and measures related to DEI is essential. This plan can be reviewed and adjusted annually.
Investors also play an important role in promoting DEI within startups. Becoming aware of one's own unconscious bias and conducting thorough team due diligence will lead to better and more diverse investment decisions. As investors, we can express our expectations for diversity and inclusion in companies during collaboration, set standards, and help them achieve their DEI goals.
DEI can be a win-win scenario. All you need is to set a plan and start with the low hanging fruit. It may not always be possible to effect change immediately, so take the pressure off, reflect on what works well and what doesn't, and continuously improve. Engaging with DEI communities and networks can be helpful in exchanging ideas with other companies at a similar stage in their DEI journey. Examples for such communities are Inklusiiv and the DEI Club.
Companies face various priorities, and DEI might not always be at the top of the list. The good news is that a progressive DEI track record can have a positive knock-on effect across the organization, from talent acquisition to financial performance.
I wish you success in implementing your DEI strategy and am confident that you will inspire other companies to follow your lead.
References:
[1] Why recruiting a diverse workforce is critical for your business
[2] Diversity wins: How inclusion matters
[3] 'Real implications' | Huge majority of HR leaders agree D&I crucial for business performance
[4] Tech Startups: Diversity & Inclusion. How to become a leader
[5] The gender gap in top jobs – The role of overconfidence
[6] 2019 – 2020 Report: Corporate Responsibility at Intel (p. 8) 
[7] Verizon 2021 ESG Report (p. 82)