Nuventura and E.DIS replace world's most potent greenhouse gas
Nuventura and E.DIS have begun cooperation on a commercial demonstration project in Ketzin, Brandenburg, Germany that aims to replace SF6 in distribution grids
Nuventura has started a pilot project with E.ON´s regional subsidiary company E.DIS. Together, they have completed the first commercial installation of Nuventura's Nu1™ medium-voltage gas-insulated switchgear (GIS). It is a fully certified solution for primary distribution grids that uses dry air as the electrical insulating medium instead of SF6.
"Our main objective as E.DIS Netz GmbH is to supply our customers with energy reliably and around the clock. Sustainability also plays an increasingly important role in this, which is why we plan to increasingly evaluate new, SF6-free alternatives," says Andreas Freygang, Project Manager of E.DIS Netz GmbH. "It fills me with pride that the switchgear has been installed following only two years of intensive cooperation. I am looking forward to further cooperation with Nuventura to make our network future-proof while ensuring a reliable and sustainable energy supply".
The Nu1™ switchgear used in the Ketzin substation is the first commercial installation of Nuventura's technology. In addition to replacing SF6 with dry air as the insulating medium, it uses vacuum switching, a proven and reliable technology.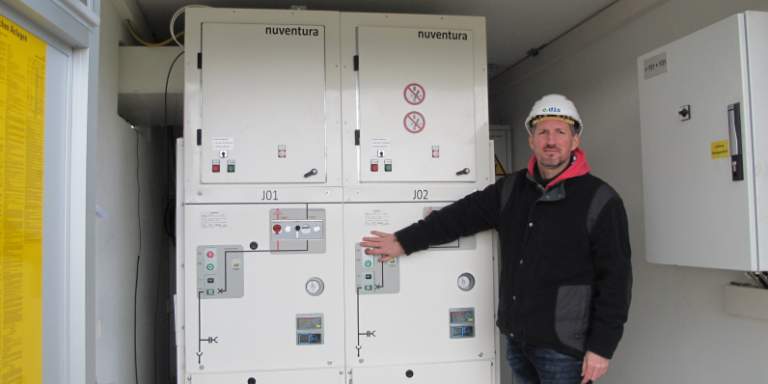 Nuventura designs GIS technologies that remove the need for SF6 or any other fluorinated gases (F-gases) in medium voltage primary switchgear applications. By being integrated into E.DIS' medium voltage network, the technology will provide both Nuventura and E.DIS with valuable operating experience for a new generation of sustainable GIS.
"Our goal as a company is to develop and licence switchgear technologies that will eventually make the use of SF6 in the energy industry obsolete. Together with E.DIS we are piloting our patented technology that, while being completely environmentally sustainable and digitally enhanced, does not compromise on performance. We hope that this represents a significant step towards the development and adoption of F-gas-free GIS alternatives," says Dr. Fabian Lemke, Nuventura's CEO and Co-Founder.
The pilot project will also test Nuventura´s IoT solution, which aims to improve switchgear asset management through real-time monitoring. Through cloud-based sensor integration, E.DIS will be able to remotely visualise, monitor and analyse the installed assets' conditions in real-time and 24/7. This will contribute to E.DIS's goal of consistently providing high grid and power quality.